The Kings Paget Hotel is ideal for business and leisure travellers, offering the convenience of location to London Heathrow Airport, main rail link into London, the M4/M25/M40/M3 with free car parking facilities.
A complimentary full English Breakfast is included for all guests, to make a great start to any day.
Licensed Bar open serving bar snacks
With a good choice of restaurants all within 5 minutes easy walking of the hotel serving food at local prices, The Kings Paget Hotel is a great place to start and finish your day.
Amenities
Complimentary Full English Breakfast
Iron / Ironing Board fitted in superior rooms. For other rooms, housekeeper has one available for use
Tea/coffee making facilities
Hairdryer fitted in superior rooms
Licensed Bar
Public seating/lounge area
Superior rooms have luxurious bathrooms with bidets
Parking Information
Complimentary Parking
Parking is free to all Hotel Guests, video surveillance of parking area.
PDF Information Leaflets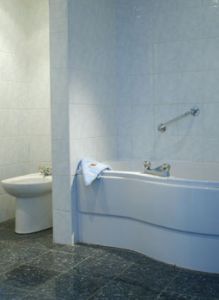 A Bathroom at the Kings Paget Hotel
The Bar
A Bedroom at the Kings Paget Hotel





The Breakfast Room